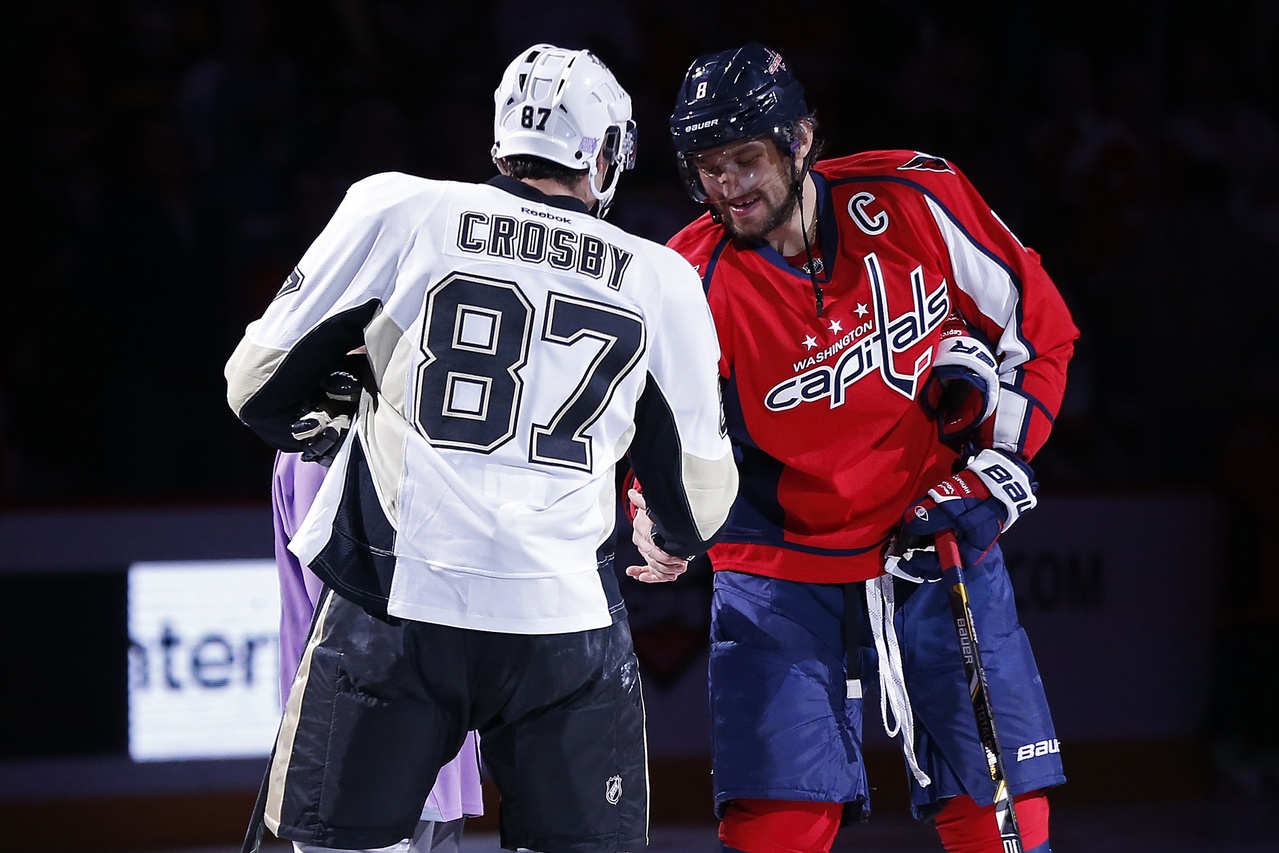 Incomparable, just one of many words to describe the greats pictured above. If you don't get chills down your spine when you hear the names Sidney Crosby and Alexander Ovechkin, then I'd like to find out why. There are no two other players as of now in the NHL, that deserve more respect than Pittsburgh Penguin #87 and Washington Capital #8. We can only imagine the amount of work and perseverance these two put into the game year after year consistently to get to where they are now. Both Stanley Cup Champions, team captains, mentors, master's of the game, relentless skaters, unmatchable hands and shot, they really have it all. If I go on and on, I'll be here till these two retire which the question is . . . when will that day come?
It is absolutely incredible to live in an era of which these two are playing in. Entering the league in 2004-2005 as a 1st round, 1st pick, playing through the "Tough Guy" years, as I like to call it against big bodied specimens like Chris Pronger, Dion Phaneuf, and Donald Brashear, to name a few and the years now of the "Speedy and Skillful" Connor McDavid, Auston Matthew, and Nathan MacKinnons. There has been no signs of slowing down in any area of their game which is mind boggling to think. How do you get older and but faster and more skillful? Adaptability and constant deep practice would be my guess, but it has got to be more than just that and how much longer will they last in the NHL?
Sidney Crosby aka "Sid The Kid". Born in Cole Harbour, Canada, now age 32, standing at 5'11 and 200lbs, the 2005 1st Round, 1st Pick, lefty centerman selected to play for the Pittsburgh Penguins. 984 games played, 1,263 points, 3 Stanley Cups, tons of other awards earned, and already listed by NHL.com as "100 Greatest Players". So what makes Sidney Crosby so great? Listed below is my top 5 qualities of what I believe separates him from the rest.
The 1 Up Approach (Mindset)/Intelligence: No matter what any opponent tries to do to stop him, he always finds a way to pull ahead making him unstoppable anywhere on the ice against any team. Leveraging his and the team's strengths and exposing the opponents weaknesses.
Leader: Sets a goal and is on a mission to get there at all costs. Gets to work and pulls his team up during the chase, never down.
Character: Always finds himself serving as a role model for his team and others in the community. Says the right things and does the right things.
Determination: The pursuit of excellence. Appreciative of winning and humble but never is enough. Always looking for another win, another playoff chance, another Stanley Cup.
Consistency: It's easy to be great for a day or week, but most people do not have what it takes to endure the mental and physical challenges of playing at the highest level year after year like Crosby does. It's the small habits and daily sacrifices that produce long-term success.
But we want to know! How much gas does Sidney Crosby have left in the tank? I'd have to say the only thing that is going to stop Crosby is either a career ending injury (hopefully not) or when he tells himself, it's time to hang up the skates. His ability to stay consistent and give 100% every day will keep him in the league with some of the up and coming players. If the Penguins can find the right pieces to the organization and find ways to maintain speed throughout the 82 game season and playoffs, don't be surprised if Crosby finds his name on the Stanley Cup once again within the next 1-3 years.
Alexander Ovechkin aka "Ovie The Great 8". Born in Moscow, Russia, now age 34, standing at 6'3 and 236lbs, the 2004 1st Round, 1st Pick righty left wing selected to play for the Washington Capitals. 1,152 games played, 1,278 points, 1 Stanley Cup capture, a scoring machine, and listed as well by NHL.com as "100 Greatest Players". And what makes Alexander Ovechkin so great? Listed below is my top 5 qualities of what I believe separates him from the rest as well.
Mindset/Toughness: Willing to steamroll anyone on the ice with his gifted size, he takes this same approach to skating down the ice with the puck and putting it in the net by all means.
Energy/Heart: They say positive energy is contagious. I guarantee this. His demeanor and how he exemplifies himself on and off the ice to his team is a significant advantage. In a way that it will jump start the team every day and say "follow me to the top"!
Speed/Skill: These will be the first two words that are directed to hockey itself. Speed kills and that is for sure and skill only makes it harder to maintain. His ability to be shifty on two skate blades around the ice for his size and hands will make it very challenging for any opponent to stop.
Focus: Alongside determination, his focus allows him to stay level headed and keeps him pushing harder during a workout and a hard fighting match-up against a tough opponent, just waiting for someone to tap out before he does.
Personality: Crazy right? Personality!? How many people absolutely love to work under a selfish, uncaring, tough boss with no personality and doesn't have his team's best interest? The guys love him and it shows. That's something people will fight for.
But we want to know! How much gas does Alexander Ovechkin have left in the tank? The only way to slow this man down is pretty comparable to slowing down Crosby, a serious injury (hopefully not) or when he says its time to hang up the skates as well. You could definitely see another 50 goal season coming from him if he continues to take advantage of that powerplay in the faceoff circle where he takes a lot his one timers resulting in good goals.
Both of these players deserve the upmost respect as mentioned before. They are both true legends in their sport. Sidney Crosby, one of the best play-makers in the game, and Alexander Ovechkin, one of the best goal scorers in the league. Both the complete threat on the ice and opponents dread playing against them even to this day. If they can both stay healthy, continue to take advantage of each day to improve their game and their bodies, I can see both players playing easily into their early 40's and still being a fierce competitor no one wants to match up against.
-Anthony Frattini