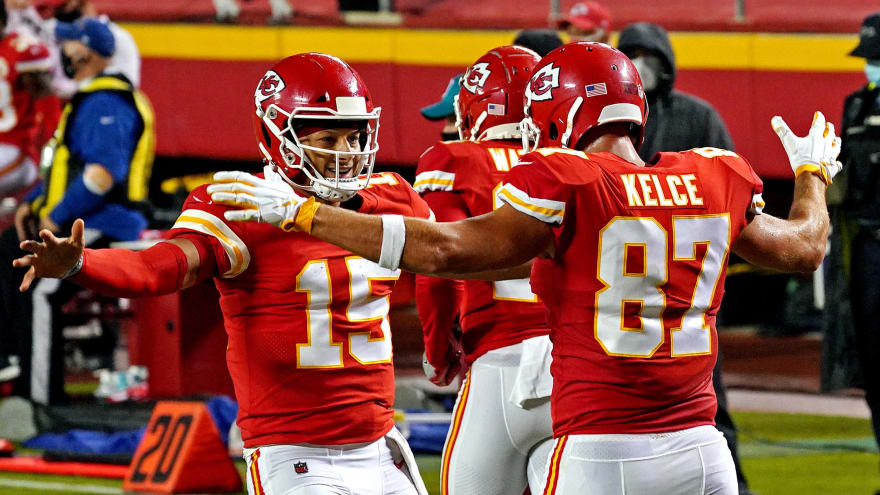 Isn't it great to have football back on tv? How exciting was it to sit on the couch for 7 hours or more watching football on Sunday? We were blessed with fantastic football in a year where there has been so much going on. Some teams played without missing a beat while others struggled out the gate. Like every other year, fans are overreacting like crazy. "Our defense stinks!" "We are Super Bowl-bound!" "We have no offensive line or weapons!" "Our quarterback is old!" Just relax, we have 16 more weeks to go. But in the meantime, here are the top ten NFL teams after week 1.
10. Tennessee Titans (1-0)
May have not been a pretty game but you have to like what you saw from Tennessee. Derrick Henry had a tough time getting long runs but Ryan Tannehill's performance is a promising sign. Completing 29 for 43 with 249 yards and two touchdowns. They were able to slice and dice the Broncos defense down the field with the play-action pass and passes over the middle. The defense was still solid even with Rashaad Evans getting ejected. Got to get the kicking situation cleaned up. They escape Denver with a win that could be very important down the line.
9. Pittsburgh Steelers (1-0)
They finally have their quarterback back. It took a bit for Big Ben to shake the rust off but for coming back from elbow surgery, that game was a good sign. Roethlisberger threw for 229 yards and three touchdowns without a turnover. Snell steppes in for James Connor rushing for over a 100 yards. The defense is outstanding especially the front 7. They limited Giants star Saquon Barkley to 6 yards on 15 carries. This defense combined with good quarterback play with Big Ben back could give AFC teams some trouble.
8. New England Patriots (1-0)
While this team looked different than the previous years, the record looks the same. The Patriots are going old school with their offense. Cam Newton's Patriot debut was "ground and pound" football rushing for 75 yards and 2 touchdowns. The chemistry may not be there yet with his receivers but he did pass for 155 yards. The Patriots are going to bore a lot of fans out by being a run-heavy team but they don't care as long as they keep wins ball games.
7. Los Angeles Rams (1-0)
Opening the brand new 5 billion dollar stadium with a win is a good start for this team. The offense looked smooth and efficient. Dallas' defense was off balance with short throws, a quality run game, and a quick pace. They may not make the big plays everyone is accustomed to nowadays but they were able to drive the ball down the field. The defense is improved from last year. Dak and the Cowboys offense never got comfortable. Aaron Donald was especially dominant throwing the Dallas offensive line around like they were feathers. The Rams may not look like the Super Bowl team from two years ago but they looked good in week 1.
6. Buffalo Bills (1-0)
Say what you want about Josh Allen but he has been improving every year he has been in the league. He made plays with his legs (57 yards, TD) and a career-best passing day with 312 yards and two touchdowns. He did fumble twice which is an issue but that can get cleaned up. The defense is still top-notch. They absolutely stuffed the run game and made Sam Darnold look like a rookie quarterback. Lots to like with this Bills team. They face another rebuilding team in the Dolphins next week so a good schedule for the Bills to start the season.
5. New Orleans Saints (1-0)
Tom Brady entering the NFC South didn't phase this team at all. Took a bit for the offense to get going but the defense showed up. They forced Tom Brady and the Bucs into three turnovers which gave Brees and the offense some comfort. Brees only threw for 160 yards, and New Orleans' offense was held to 271 total yards. They'll clean that up going forward. They have continuity, great coaching, and established talent. The new additions of Emmanuel Sanders and Malcolm Jenkins are big time. The Michael Thomas injury is one to keep an eye on though. This team will get better every week and they already are better than many other teams.
4. Seattle Seahawks (1-0)
See what happens when you let Russell Wilson pass the ball? He cooked the Falcons over the air all day on Sunday with 31 of 35 passes for 322 yards and four touchdowns. They only ran the ball a few times but their effectiveness through the air was predominant. This is Russell Wilson's team and Pete Carroll has to take advantage of the extraordinary talent of Wilson. The defense played very aggressively and looked better than expected. Jamal Adams was a huge addition for them as the Seahawks were flying around the field making key tackles. The offensive and defensive line is still a question mark moving forward but Seattle is still a tough match-up for any team.
3. Green Bay Packers (1-0)
You really thought Aaron Rodgers was going to have a bad year? Really? As Stephen A. Smith would say, he is still a baaad man. Rodgers torched the Minnesota defense for 364 yards and four touchdowns. Davante Adams tied a franchise record with 14 catches, racking up 156 yards and two scores in the process. What was also great from the Packers was that Allen Lazard and Marquez Valdes-Scantling contributed as second options with big plays and touchdowns. The defense got worked on too but with the Lions next up on the schedule, they'll be able to fix any problems. Green Bay still looks like a contender even with a noisy offseason.
2. Baltimore Ravens (1-0)
Lamar is the real deal folks. He went 20 for 25, 275 yards, 3 touchdowns, and 45 yards rushing. Stop criticizing that this guy can't throw. He's proving it every single game. Also, this team looks way better than last year. Yes, they played the Browns, but the Ravens looked so relaxed and smooth. They finally have a pass rush, the run game with the addition of rookie J.K Dobbins is better, and the rhythm in the passing game is smoother with Hollywood Brown and Mark Andrews. This team just doesn't have many holes.
1. Kansas City Chiefs (1-0)
How do you stop them? That offense is so loaded with weapons that someone is going to get the ball no matter what. Mahomes didn't have that big throw on Thursday and the Chiefs still dominated. He was changing plays at the line of scrimmage and playing like a 10-year vet by dissecting the defense with short throws. That along with Clyde Edwards-Helaire (how good was he on Thursday?) in the mix, good luck designing a game plan to stop them. Their defense is also good. Chris Jones may be the most underrated player in this league. There's a reason Kansas City paid him. He's a run-stuffer with terrific pass-rushing skills as a DT. There's Aaron Donald then right behind him is this guy. Chiefs are going to be tough to stop and they have no signs of a Super Bowl hangover.