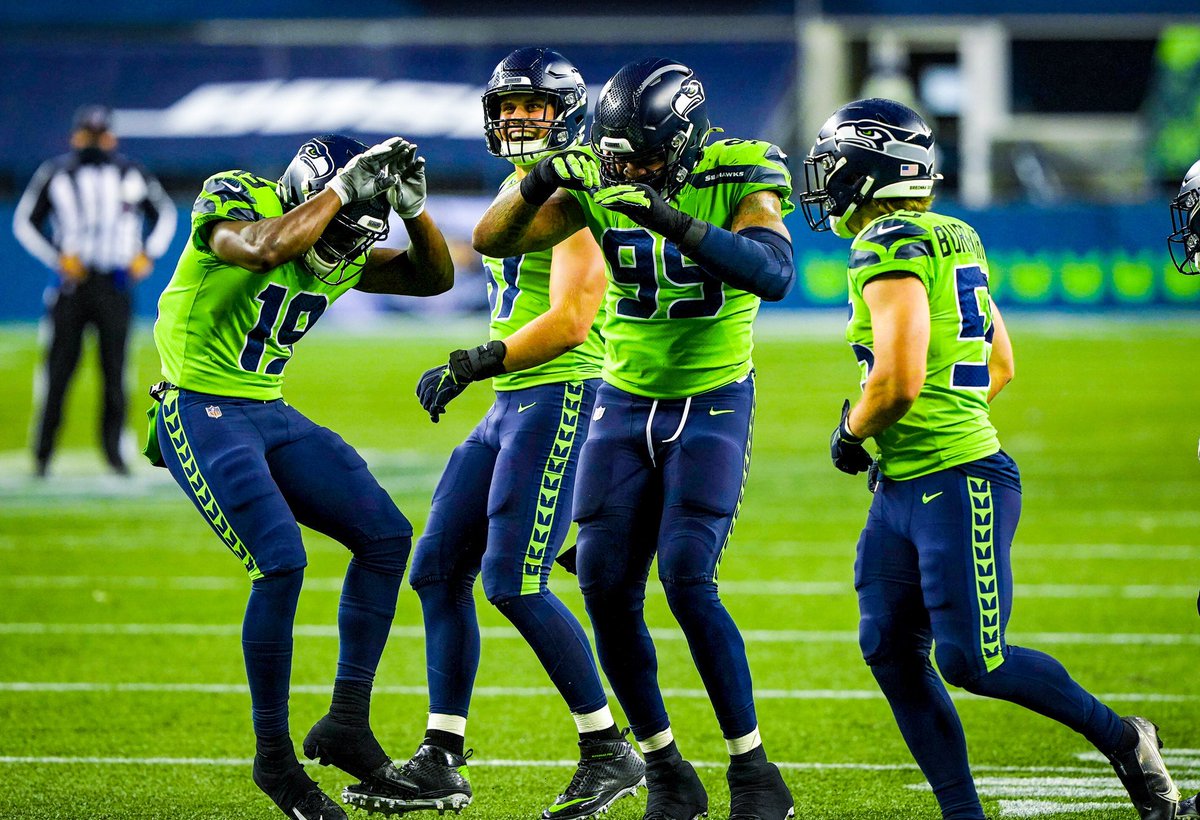 It was another bizarre week for the NFL 2020 season as a game was rescheduled for Tuesday night. This is the third time in the history of the NFL that we had Tuesday night football. It was a change in schedule that what it seemed like fans were in favor for. Unfortunately, there will be no Thursday night game this week but week 5 was filled with incredible games to carry us into next Sunday. Here are the NFL top 10 power rankings for week 5.
10. Chicago Bears (4-1)
Da Bears are back! Well, maybe it's short lived. However, they had a big win over the Buccaneers this past Thursday. Nick Foles missed a couple of throws but was able to make the ones that counted for them to drive down the field at the end of the game. The defense can win this team a bunch of games with their ability to get off the field on third down and force turnovers. Matt Nagy said after the game "There's something special about this team." That remains to be seen, but the Bears are off to a good start. They will face the Carolina Panthers in week 6.
9. Cleveland Browns (4-1)
The Browns are 4-1 for the first time in 26 years. The Dawg Pound must be very ecstatic with their fast start and for good reason. They absolutely dominated the Colts by out gaining them on offense and making the Colts offense look pedestrian. Baker Mayfield and the offense was dealing and driving all day against the number one ranked defense in the NFL. The defense made Philip Rivers look like he should of retired intercepting him twice (one for a pick-six) and racking up a safety. They will be tested in week 6 with a big divisional showdown with the Pittsburgh Steelers.
8. Los Angeles Rams (4-1)
The Rams took care of business against the NFC East by sweeping the entire division. While the competition hasn't been that impressive, the way the Rams have won those games has been. The offense was back in sync against Washington by looking incredibly balanced. Jared Goff started the game 13 of 14 with 194 yards with one rushing touchdown and one passing touchdown that was a thing of beauty to Robert Woods. The story of the day from the Rams side was the dominant performance from the defense. The defense only allowed 108 total yards with eight total sacks. Aaron Donald was responsible for four of those sacks with three tackles for a loss and a forced fumble. This team hopes to keep rolling as they open up divisional play against a wounded 49ers squad in week 6.
7. Buffalo Bills (4-1)
The wagons have stopped for the Buffalo Bills. It was not a good night for the team that had a hot start to the season as they got pummeled by the Titans on Tuesday night. Buffalo was killed by turnovers, too many penalties, defensive miscues, and lack of any offensive momentum including a run game that was totally absent. Josh Allen had a dud of a night with some missed throws resulting in two interceptions. The mystery of when this game was going to be played may have led to this poor performance from this team but they have to quickly get back on track with a big Monday night game against the Chiefs this upcoming week.
6. Baltimore Ravens (4-1)
Baltimore was in full control this weekend (as expected) against the Bengals and it wasn't even close. The defense had seven total sacks, 15 quarterback hits, one interception, two forced fumbles with one returned for a touchdown. They made Joe Burrow look very rookie like as he only had 183 yards with two turnovers. A dominant showing by the defense overshadowed the offense that had a bit of a down week. The Ravens offense was a bit slow but Lamar Jackson, Mark Andrew and others were noted to be a bit banged up entering Sunday on the injury report. Hopefully, they have a better week and get well rested for this upcoming week as they will travel up I95 to Philadelphia.
5. Tennessee Titans (4-0)
You would think the COVID-19 outbreak and not playing for almost two weeks would affect this team. That was not the case at all as the Titans steamrolled the Buffalo Bills on Tuesday night with a 42-16 win. Derrick Henry had a great game tossing around defenders rushing for two touchdowns. The defense had a great night slowing down a Bills offense that was off to a hot start to the season with Malcolm Butler having two interceptions. They have been a threat ever since Ryan Tannehill took over. This team is 11-3 with Tannehill as their starting quarterback. For you fantasy gurus out there, he is quarterback number three on a points per game basis behind Lamar Jackson and Patrick Mahomes. Tennessee has had a bunch of close games up to this point but this was an absolute statement saying they are real contenders in the AFC.
4. Pittsburgh Steelers (4-0)
The best team at drafting wide receivers in the draft did it again. Chase Claypool, ever heard of him? If not, you know him now after his monster performance against the Eagles. The second-round pick from Canada had seven catches for 116 yards with four total touchdowns establishing himself as a new threat in this Steelers offense. Big Ben had a good game off of that along with James Connor having a effective day on the ground. They still have the best defensive front seven in the NFL, but the secondary is a bit vulnerable. The Steelers are now 4-0 for the first time in 41 years. Very surprising for one of the best franchises in the NFL but definitely worth a top-5 spot on the list.
3. Kansas City Chiefs (4-1)
Well they finally lost. The 13-game winning streak was snapped by the Raiders on Sunday. Even more unfortunate, I think the blueprint is out on how to beat the Chiefs. Control the clock, have the ability to produce big plays, and put constant pressure on Patrick Mahomes. The loss of guard Kelechi Osemele leaves a hole on the inside that opponents could potentially exploit. This team is still dangerous but a little setback for the defending champs this week. They have another big Monday night game in week 6. This time against the Buffalo Bills.
2. Seattle Seahawks (5-0)
Never count out Russell Wilson. His ability to drive down the field for the go-ahead touchdown in a two minute situation in the rain on his own 5 yard line is sensational. They did struggle most of that game against Minnesota but were fortunate to escape with a win. The defense is suspect until Jamal Adams comes back. Still lacking a pass rush and the rest of the secondary isn't scary. This team goes as far as Russell Wilson takes them.
1. Green Bay Packers (4-0)
There's a new king in the power rankings. A early bye week always is something teams aren't in favor of but it benefited the Packers on this list. This team is the best in the NFL right now. They don't turn the ball over, they score a ton of points, and never get heavily penalized. That's a recipe for tons of success in this league. Aaron Rodgers is resurging as the leagues best quarterback, Aaron Jones is on pace for another amazing season on the ground, Davante Adams is returning this week, and the defense that is better than most people think. Teams around the league may have some sort of issues, holes, or weaknesses around their team. Not the Green Bay Packers.